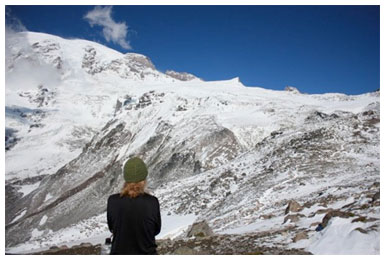 Summary of Qualifications
• Provide vision and leadership for strategic marketing and communications.
• Conceptualize and create dynamic materials for a variety of audiences to advance the brand, image, voice, and mission.
• Create cohesive campaigns by evaluating audiences, markets, and messages to create integrated marketing communications that grow relationships, trust, and loyalty.
• Develop written and visual content strategy across print and digital, including POP, magazines, annual reports, postcards, brochures, email marketing, websites, SEO, blogs, and social media.
Experience
Marketing & Communications Manager for the University of Washington. May 2009 – Present.
• Define goals and develop strategic marketing and communications plans for the University of Washington's Northwest Center for Public Health Practice.
• Present marketing objectives, concepts, and goals to the Center's leadership. Member of four-person leadership team to support Center director.
• Expand communications to become one of four divisions of the Center.
• Lead and manage the communications division, hiring talented staff and building transparent, team-oriented systems.
• Develop and implement clear and effective brand strategies.
• Cross-channel marketing, including a new website and introduction of platforms such as social media, HTML email, monthly e-postcards, blogs, and annual reports.
• Provide training for my staff, other Center divisions, graduate students, and other agencies on topics such as branding, campaign development, messaging, graphic design, and storytelling.
Media Producer/Graphic Designer for the University of Washington. April 2008 – May 2009.
• Rebranded the University of Washington's Center for Public Health Informatics and implemented across all print and digital products.
• Responsible for all media outreach, including press releases, PSAs, and response to media inquiries.
• Developed information architecture for internal organizational structure and all client projects.

Consultant for Windermere Services Company Online Marketing Campaign. March 2008 – April 2008.
• Oversaw online banner marketing project, working with Windermere brokers, real estate agents, and contract creative agencies.
Consultant for Macy's Northwest Marketing. November 2007 – January 2008.
• Wrote messaging for all Macy's stores throughout Washington, Oregon, Montana, Idaho, and Utah.
• Specialized in mixed-media marketing, including macys.com, booklets, and special event signage.
Co-Producer & Co-Writer of The Vermont Book of Days, a multi-media program broadcast daily throughout Vermont. May 2003 – November 2007.
• Produced for television, radio, print, and web under continuous daily deadlines.
• Developed and maintained a diverse distribution network, including Vermont Public Television (PBS), a network of ten radio stations, and a network of newspapers.
• Secured statewide program sponsors and created customized marketing materials.
• Prepared educational PDFs available statewide to schools.
• Program promotion included ad placement, press releases, press kits, newsletters, and web bulletins.
• Program spokesperson, providing interviews for TV, radio, and print media.
Co-Wrote & Co-Published The Vermont Book of Days: The First Year. Released December 2005.
• Conceptualized and brought a 224-page, hard cover, full-color book to market.
• Secured funding, researched, wrote, designed, and printed the book.
• Developed a comprehensive campaign to reach media, sponsors, distributors, and the public.
• Participated in interviews, book signings, and other events to sell 1,000+ copies in first ten days of release.
Education
• Certificate in Marketing Management, Foster School of Business, Seattle, Washington.
• Summa Cum Laude from Saint Michael's College, Colchester, Vermont.
- Bachelor of Arts in Journalism and Mass Communication; G.P.A. 3.9
- Bachelor of Arts in English Literature; G.P.A. 3.96
Selected Recent Presentations
and Courses Taught
• Join the Conversation: Social Media Strategy, 2.5 hour workshop, Great Falls, MT, October 2013.
• Don't Preach, Teach: Effective Presentations, 3.5 day course, Seattle, WA, August 2013.
• Graphic Design, University of Washington graduate course guest speaker, 1 hour, Seattle, WA, April 2012.
• Tell Your Story, 1 hour session, Wenatchee, WA, October 2012.
• Creating Communications Campaigns, 3 day course, Bozeman, MT, July 2012.
Technical and Team Skills
Proficient in Adobe Creative Suite, Microsoft Office, HTML, CSS, FTP, various CMS platforms, the printing process, and social media. Excels in strategic thinking, project management, and written and oral communication. Strengths include growing and leading teams, empowering colleagues, increasing organizational efficiency, making decisions under pressure, balancing budgets, and meeting tight deadlines.
In Addition to Marketing, I like:
Strong communities. Laughter. The built and natural environment. Education. Photography. Running. Compelling stories. Business plans. Problem solving. Hiking. Sustainability. Personal and population health. Fresh fruits and vegetables. Creativity. Conversations.
References Available Upon Request